Take An Ice Cream Break 🍨
Blogs are now the first Monday of every month due to our now busier schedule filling online orders for pickup and delivery around the city. It's so nice to be back doing what we love and helping bring smiles to faces across the city with our sweetly geeky treats.  But even with all that going on it has been hard not to be exhausted from everything else going on in the world right now and honestly, we were at a loss on what to blog about.
2020… has been a year, hasn't it? Between Covid-19, a long needed spotlight on inequality, missing our favourite events and cons not to mention friends and family, virtual celebrations, murder hornets, Tiger King (Carol did it!) and what seems like waking up everyday to some new crazy happening from around the world, it's exhausting!!! …and we've only reached July!!!!
So we're offering this blog up to zoning out and taking a break from this crazy world and what better remedy to help than ice cream?
"But GOoDS Crew… you don't make ice cream," We hear you say…
Well, maybe we don't, but sometimes you just need a huge scoop of ice cream 🍨 with your GOoDS cake 🍰… Better yet, support your favourite small business…
Honestly, we love it, every order, every customer, every social media comment, review and every email we get through COVID-19 keeps us going until the next one. THANK YOU, our customers for trusting, loving and supporting us during this historical moment in time. We love you too.
…grab some of our bars or barks, chop them up and stick them into this recipe. Cobble together your own creations, be the mad scientist you always wanted to be. Smoked ice cream? Hell yes, let's get philosophical. Explore the vastness of the universe by chopping up a box of our Galaxy Truffles for a new flavour in every bite!
Or … want to stop adulting and grab a small mental health break to get your energy to face the second half of 2020? Turn yourself into a blanket burrito and enjoy Sunday morning cartoons but instead of cereal and milk, it's ice cream and our Cereal Killer Bark. BAM! 💥
I read a theory online that the year 2020 is proof that time travel exists because it's someone popping back and forth trying to fix something, but each time they mess it up and make it worse…after everything that has happened so far this year it doesn't sound that crazy.
Grab your ice cream, whatever flavour mood you need, take a break, the fight will be here when you get back.
🍨 Vanilla Ice Cream 🍨
This recipe is graciously donated to us by one of our amazing kitchen wizards Margo! You can meet her
here
.
Margo says – "This is my go-to recipe because you can always customize it by adding whatever flavourings or add-ins you're in the mood for."
Ingredients:
1 cup sugar
¼ teaspoon salt
7 large egg yolks
1 ½ cups whole milk*
1 cup whipping cream*
1 vanilla bean (or 1 tablespoon vanilla extract)
Instructions:
In a bowl, whisk together egg yolks, sugar and salt until pale and fluffy. You should be able to drizzle some with your whisk and see it leave a trail.
Split vanilla bean and scrape out seeds. Pour milk into a medium sized pot, add seeds and pod from vanilla bean and bring to a simmer.
Remove from heat and temper with the egg yolk mixture. Pouring the hot milk very slowly and whisking the eggs as you go.
Return mixture to pot and place on burner at medium-low heat. Whisk constantly until mixture slightly thickens and perfectly coats the back of a spoon.
Pour through a strainer into a clean bowl. Stir in whipping cream, as well as vanilla extract if using instead of vanilla bean.
Let chill in the fridge for 24 hours before churning.
Follow directions for your ice cream maker, then chill for 2 hours.
*If lactose intolerant like Margo, use lactose free whole milk and substitute whipping cream with a can of coconut milk. Make sure to refrigerate the can for a few hours ahead of time so the coconut cream separates from the water (you only want the cream!) Enjoy your ice cream, share your photos with us @thegoodsweetsto, and we will see you after your break. 💪🏽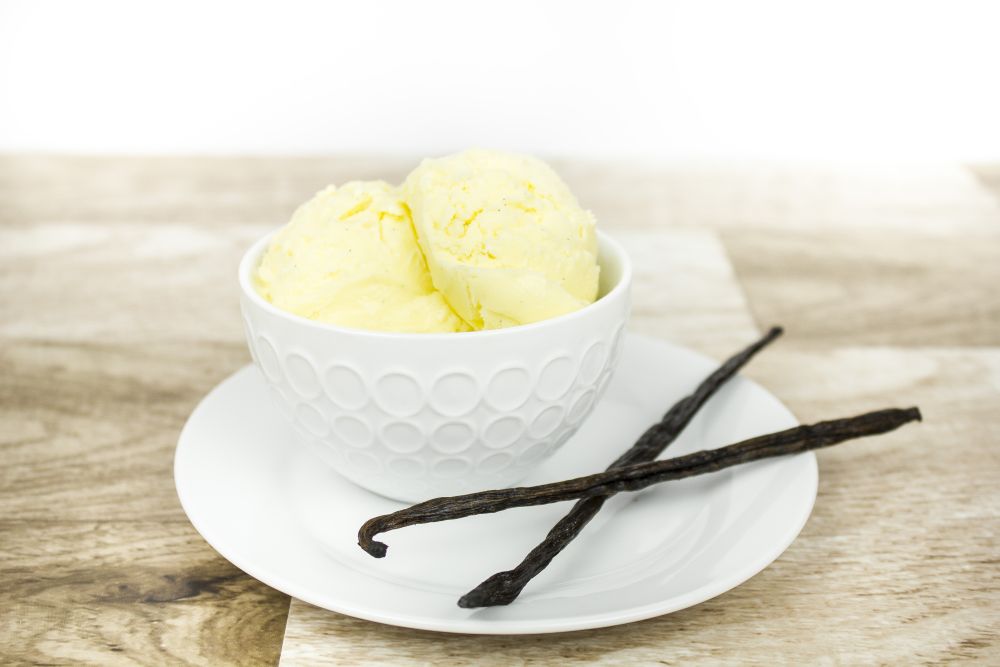 May the fork be with you always!
– The GOoDS