Our Covid-19 Response
Working Together Safely through the Pandemic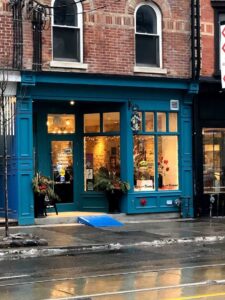 As we navigate through the constantly evolving Covid-19 pandemic, we are adapting our operations to continue supporting our staff's physical and mental health as we also make our customer's days a little sweeter safely. Here we recount our response since the beginning of the pandemic in March of 2020. If you have any questions regarding our covid-19 safety procedures we welcome you to
contact us
.
March 16th 2020
Due to the growing uncertainty and questionable safety we voluntarily closed for the mental and physical health of our staff as we awaited further information from our Government.
March 17th 2020
The Government of Ontario officially declared the first lockdown.
March 16th – May 20th 2020
During this time we provided our staff with full pay, information resources, divided all perishable ingredients and products amongst our staff, provided emotional support resources, optional movie nights for our staff and customers and open communication. We also launched our
Birthday Cupcake Pages
in hopes we could help our customers with isolation birthdays feel loved.
May 20th 2020- Present
We Opened for Curbside Pickup, Delivery and Shipping. We have chosen to keep the cafe closed to the public and remain in maximum lockdown measures to prevent the open/close uncertainty and mental health strain on our staff and to do our part to prevent the spread of Covid-19 and it's variants.
Our customers are shopping with us safely knowing we are taking the highest precautions, and will always be open and honest should any closure due to Covid-19 take place. To date we have not had any cases amongst our staff members, but if we do, we will take the utmost care to support them during their time off, temporarily close the shop for deep cleaning and inform the public through our social media. We will only reopen once it is confirmed safe to do so.
We operate with a maximum capacity of 2 staff members on each floor of our facility at a time to help promote and encourage maximum social distancing safety. We have an excellent HVAC air quality system to help with air circulation as well.
Masks, and hand washing are in effect at all times while on site, as is the regular disinfecting of surfaces.
Each employee was provided 2 personal cloth masks and we have additional disposable and N95 masks on site for use as needed. Hand sanitizer, gloves and personal storage spaces are provided as well. We also offer 3 different lunch/break room space options (one on each floor including amenities such as fridge, stove and microwave) to help our staff decompress and enjoy their breaks safely.
Any employees with tasks that can be done from home do so, some with mixed schedules consisting of on site shifts and work from home shifts, and others with work from home only positions.
We provide flexible scheduling and work with our staff to determine what schedule will assist their needs most, especially around school closures for those with little ones. (Admittedly, FOH staff have slightly less flexibility due to the nature of Curbside Pickup hours.)
Should someone receive a possible contagion notice from an outside source (such as from the school board) they take the remainder of the day (and sometimes a few extra days) off. To help reduce loss of wages/hours we have offered to pay for private same day Covid-19 testing for them and their immediate family while our Government funded testing remains with long wait times.
We provide our staff with sick days and vacation time and are very communicative to help build their trust in us. We work extremely well as a team of honest individuals and do not judge the use of those sick days/vacation time allowing them to feel confident in us and not feel pressured to come to work with unknown symptoms.
As vaccines rollout we are working with our staff members to ensure scheduling coverage, support and flexibility for vaccination appointments. We also provide up-to-date information on who is currently eligible for vaccines, appointment booking assistance and help finding answers to any vaccine questions or concerns.
We have monthly check in meetings and send our staff optional feedback forms to see how they are doing both personally and at work, what we are doing well, and what we could be doing better. We take our staff's suggestions to heart and often adjust/implement their suggestions for better safety, efficiency and comfort.
Here at The GOoD Sweets we truly take the safety of our customers and staff extremely seriously. We remain in operation safely through lockdowns & stay at home orders to provide our staff with a trusted source of income and to help brighten our customer's days through good food made with love.
Please stay safe, and thank you from the bottom of our hearts for your continued support and belief in our small business. This is all possible thanks to each of you. Thank you.
May the fork be with you, always.
Sam Lapointe & Meridith Braun
The Grand Order of Divine Sweets